Google is pushing out a rapid auto-delete feature to wipe the past 15 minutes of your mobile search history in its never-ending drive to persuade consumers that it cares about their privacy. The functionality will first be available on iOS devices, with Android users receiving the choice later this year. 
The 15-minute scrub was first introduced at Google I/O 2021 as an alternative to the current auto-delete function. Through the Google Search app's profile page, you may select to have your data automatically deleted after three, 18, or 36 months (about 3 years). Alternatively, you may now select 15 minutes.
Users with access to the functionality on their iPhone or iPad will see it appear in the Google app for iOS. Under Search history, tap on your profile avatar photo to locate the button for erasing the previous 15 minutes. 
It's a little more pleasant to remove data with this function than with incognito mode, and it comes in handy if you realize your current fixation with Googling cults is not something you want to feed the algorithm.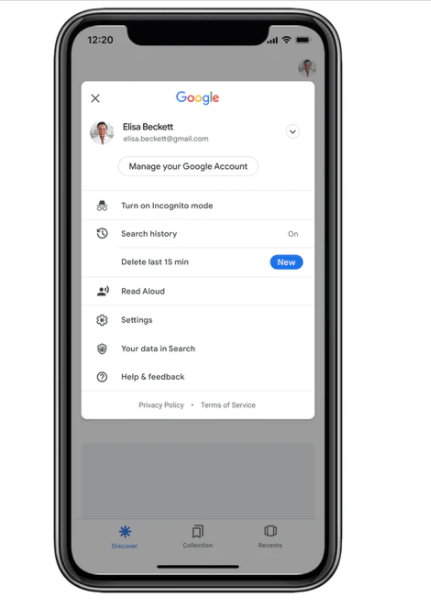 Google is also recommending the Privacy Checkup and Security Checkup features, which are both useful tools for seeing which third parties you've allowed access to your Google account over time. I just went through and uninstalled several services that I hadn't used in over a decade.
You'll need to set aside some time to go over the settings and see what Google recommends but investing a little effort now will pay off in the long run by safeguarding your account.
Finally, Google is introducing the option to hide the My Activity page behind an additional sign-in page. For example, if you share a tablet with your children, they won't be able to see what you were looking at earlier in the day.
Because it's possible that Mummy (that's me) has fallen down a cult rabbit hole, and some of those Google search results aren't meant to be seen by the general public.